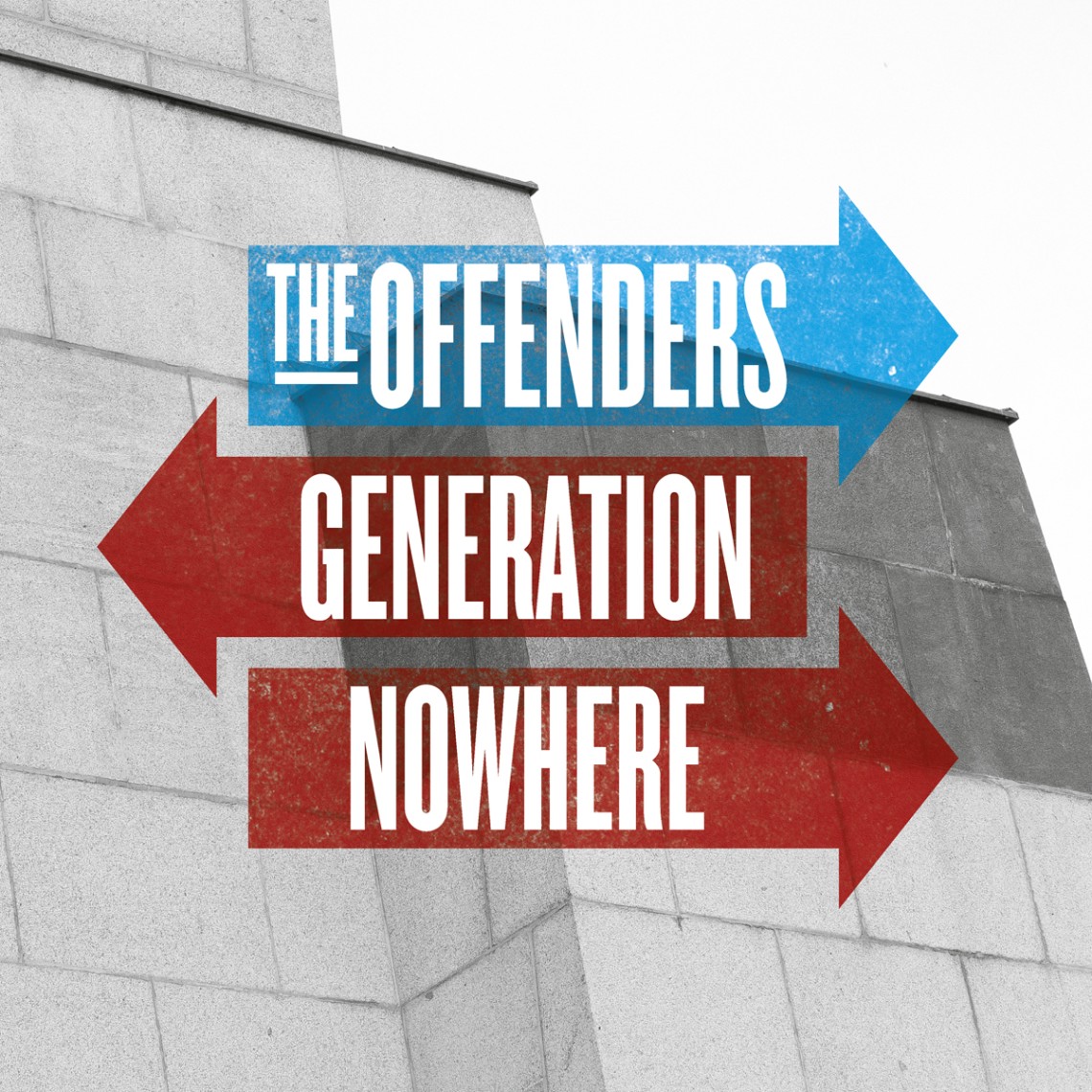 Generation Nowhere
THE OFFENDERS - Generation Nowhere
File Under: Ska / Soulpunk / Beat
With their 5th record "Generation Nowhere" The Offenders (originally italian Ska Rockers based in Berlin for 5 years now) perfectly demonstrate their ability to combine best ingredients of Two Tone Ska , Punkrock, Beat, Soul and Powerpop into a unique mixture full of hooklines, Offenders classic way of playing offbeat mixed with 77-Punk, Mod Revival and british Pub Rock from the 70's, all suitable in a dancing mood as well as pogo pit... rough but melodic, fast but smart, no easy going slogans, no compromises, just life in the way they live and keep it going: on the streets, on the side of the subcultures they love, on the side of the real (and antiracist) football fans and all the traditional skinheads, punks, mods and rockers who still wanna have a say and won´t be silenced.
LP in white vinyl
Tracklist:
01. Berlin Will Resist (Riot 87 in SO36)
02. We'll Always Be With You
03. Cripple Superstar
04. Stay True
05. Generation Nowhere
06. Tonight
07. Rude Fans
08. Don't Ever Say Again
09. Heil Angela
10. The Youth Paid
11. Face The Power
12. Crying At The Bar
13. Pogo In Togo
DJs CHOICE
1) Berlin Will Resist 3) Cripple Superstar 1) Leaders Fall Down 7) Rude Fans 10) The Youth Paid
SHORT BAND-HISTORY
Formed in 2005 in Italy by vocalist/guitarist/songwriter Valerio, actually based in Berlin/Germany since 2009 ; being known in the global underground scene for their smash hit "Hooligan Reggae" - The Offenders represent one of the most energic and powerfull bands in the ska punk scene of the European continent today, combining a unique melodic sing-a-long mixture of styles, from 2tone ska to mod-79, from rocksteady to rockabilly, being played all over the world by leading DJs of the international ska-scene.
Tours all over Europe: Italy-Germany-Austria-Switzerland-France-Czech-Slovakia-Slovenia-Serbia-Croatia-Hungary-Sweden-Denmark-UK-Ireland-Spain-Basque-Greece-Russia... and China!
LINE UP:
Valerio - Vocs/Git
Checco - Drums/Vocs
Cpt. Alex Elysium - Hammond/Keyboards/Vocs
Mr. Sinister Kris - Bass/Vocs
Info
Catalogue No: Destiny 157
Formats: CD & LP
Streaming
Links
Other Records