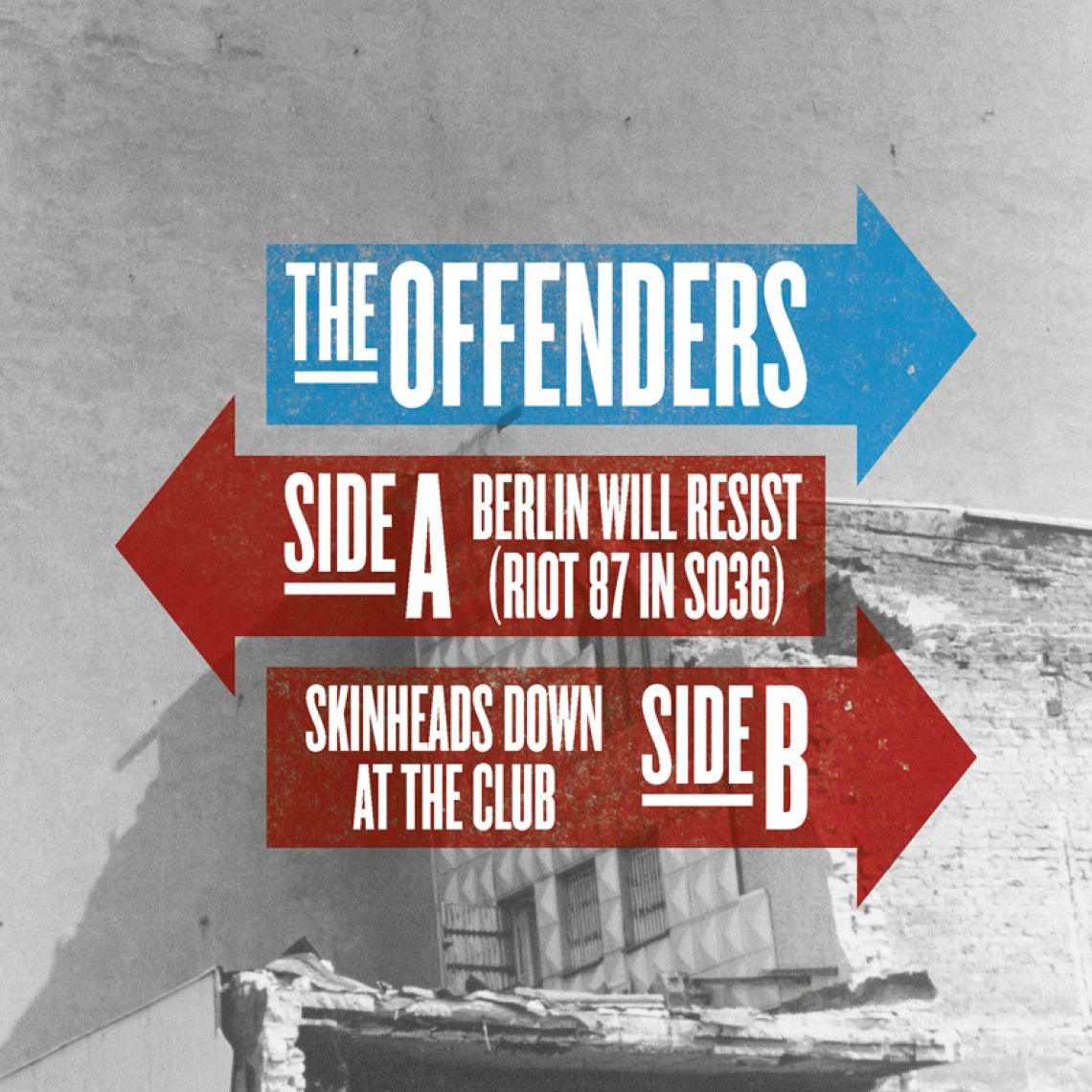 Berlin Will Resist
THE OFFENDERS - Berlin Will Resist (Riot 87 in SO36)
7" Single
File Under: Ska / Soulpunk / Beat
This Single is the advance release of the upcoming 5th Offenders record "GENERATION NOWHERE" - the group perfectly demonstrates the ability to combine best ingredients of Two Tone Ska , Punkrock, Beat, Soul and Powerpop into a unique mixture full of hooklines, strong messages and commitment!
Tracklist:
1. Berlin Will Resist (Riot 87 in SO36)
2. Skinheads Down At The Club (non-album)
RIOT 87 IN SO36 !
Nowadays the name "SO36" is being connected with the famous club for Punk- and Underground-Culture in Berlin-Kreuzberg , but originally the word simply stood for the old postal/adminstrational code of this quarter, former "Luisenstadt" and it´s neighbourhoods north of Landwehrkanal , south-east (= S.O.) of Berlin center.
The title track reminds of may 1st 1987 in West-Berlin, when a violent attack of police in combat gear onto a peaceful neighbourhood street-party resulted into the biggest riots Germany ever saw since the mid 50ties, the whole area of Kreuzberg-36 became place of a spontaneous uprising.
Beginning in the following early morning and during the whole week after the riot, West-Berlin police was out for "revenge" and tried to arrest licentiously every person they could catch on the streets of SO36, trying to send them into prison for fabricated accusations. One of these persons was Norbert Kubat, who killed himself in prison 3 weeks after his arrest.
"Berlin will resist – Riot 87 in SO36" is an offbeat-punk anthem dedicated to Norbert Kubat, but also to the old spirit of resistance which is still alive in many streets of Berlin and everywhere around the planet.
LIMITED EDITION
Music for Rudeboys, Skapeople, traditional Mods, Skinheads and antiracist football-fans all over the planet, limited on 500 copies, with non-album track "Skinheads Down At The Club" on B-side..
LINE UP:
Valerio - Vocs/Git
Checco - Drums/Vocs
Cpt. Alex Elysium - Hammond/Keyboards/Vocs
Mr. Sinister Kris - Bass/Vocs
Info
Release Date: 03.01.2014
Catalogue No: Destiny-GN71
Streaming
Links
Other Records