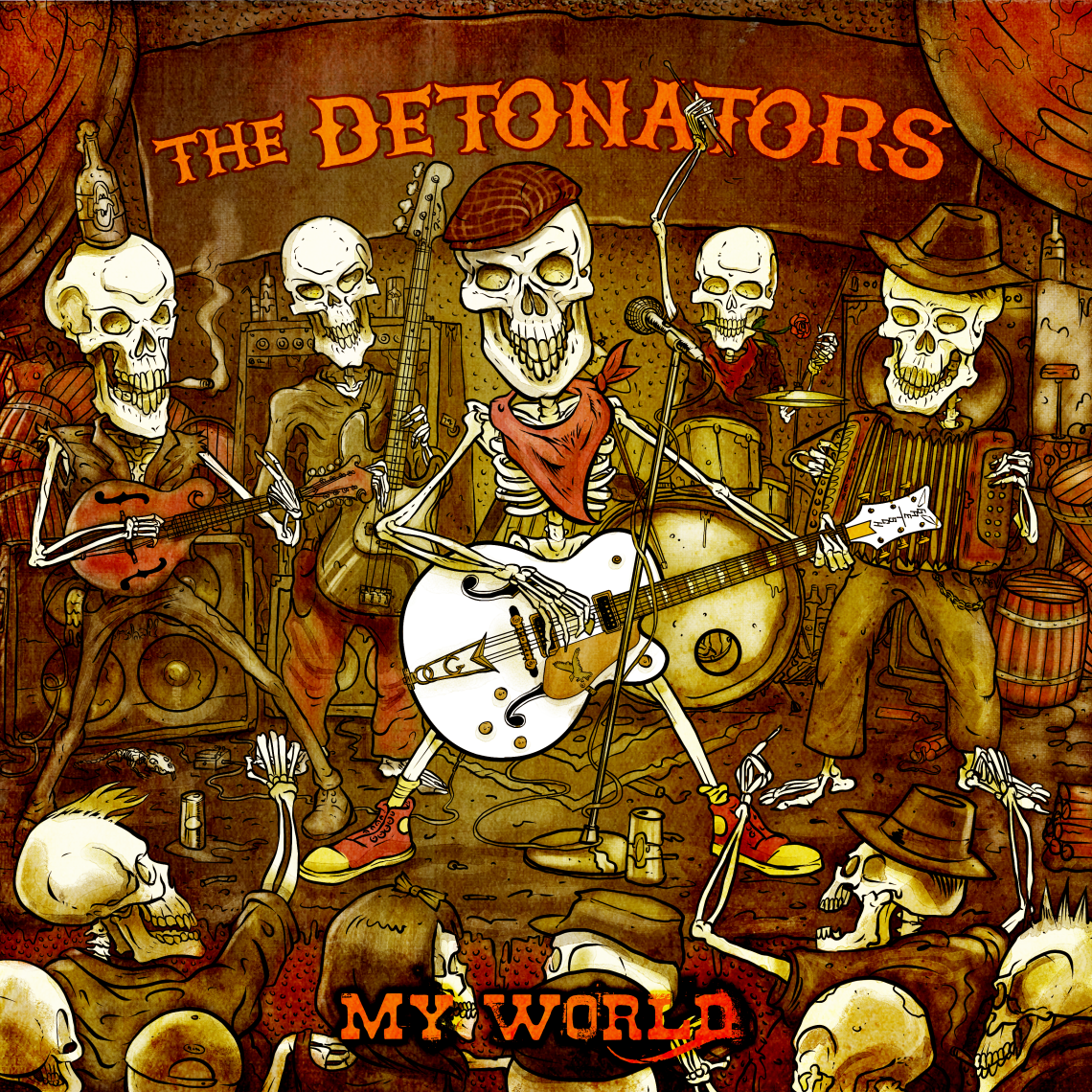 My World
THE DETONATORS - My World
File Under: Punkrock / Folkpunk
The formula of the Detonators sound is quite simple: Traditional "Oldschool California-Punkrock" songwriting meets folk-instrumentation, like 90ties West-Coast Punkrock of Swingin´ Utters, Rancid or Social D. crossbred with Pogues & Flogging Molly - more Irish, less Balkan-beat style of their native region. Using this simple recipe "California-Punk w. folk instruments" the young 5-piece recorded a hit by hit album, 11 catchy tunes to sing-a-long. It shouldn´t be missing in the selection of any folk-related pub or any punk-bar, played after midnight. If you are looking for innovation, experiments and "musical development" better leave your hands off this, if you want beer- and cider-soaked fun "My World" will be the record for you. The lyrics are concerned with breaking out, touring & travelling forever, longing for a different life, and a left/antifascist conception. When Alex is singing about his desire for "Highways" or "Long Roads" these words contain a different and much more existential meaning as the songs by those Californian groups mentioned above, pls read Aleks words below...
LP. coloured orange Vinyl
Singer Aleks in-his-own-words:
"What does music mean to us?! When we grew up in a fucked up country, denying the wrong values which society served us and the propaganda that wanted to lock us from the rest of the world, the only place where we could find salvation and keep a clear mind was in punk rock music. So it´s all about music and how it kept us alive all these years by hanging' out on punk rock shows, meeting cool bands, supporting them in front of the stage and drinking till the morning comes.
Saddest thing is the fact that nothing will ever change for better in this country and we are just seeing our ruined years passing by. All we get is wars, pain and every month worries how to get enough money to pay the rent or about losing the job ... you´re fed up with everything around and wishing you could be anywhere else but where you are. Just going as far away as possible where nothing can disturb you anymore, and nothing and no one can stop you from going there. No limits, no obstacles, just you and the open road."
Tracklist:
01 - Let's Go 2:21
02 - My World 3:00
03 - Far Away 2:55
04 - Hang On 4:12
05 - Away From Home 2:29
06 - Hey Baby 3:17
07 - Kings 2:20
08 - Highway 2:47
09 - You Will Never Die 3:59
10 - Molly 3:16
11 - Word Or Two 3:08
DJs choice:
Far Away / My World / Kings and Queens / Let´s Go / Molly....
Line Up
Aleksander Smuk - vocs / git
Petar Savic - accordion
Bojan Jovanovic - bass / vocs
Mihajlo Krisan - mandolin
Boris Sterle - drums
Info
Catalogue No: Destiny-153
Formats: CD / LP / DL
Streaming